Beechcraft KingAir B350I Plane Crash
It was a sad day today hearing about the crash of the Nigerian Airforce Plane on its way to Niger state on a surveillance mission to secure the release of the abducted students in Kagara, Northern Nigeria. All 7 on board were killed!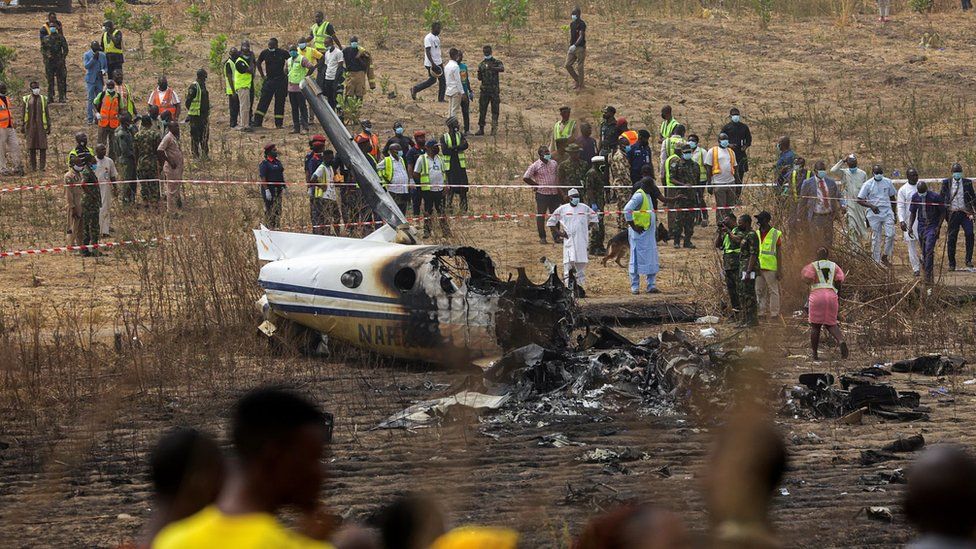 Unfortunately, the exact cause of the crash is not yet known, but preliminary investigations cite engine failure. The president of Nigeria, President Muhammadu Buhari has commiserated with the families of the deceased in a statement he gave. Onlookers were marveled at the site as they poured in to witness the devastating event. Many commended the pilot for being able to steer the aircraft away from surrounding homes and instead opting to set down in a grassy area devoid of buildings.
Air force spokesman Air Vice Marshal Ibikunle Daramola said that all those on board the small aircraft had died. Vice Marshal Daramola also told the BBC that the aircraft was on a mission to try to rescue 42 people, including students and staff abducted from their boarding school in the town of Kagara on Wednesday, when it turned back following engine failure.

bbc.com
The Chief of the Air Staff (CAS), @CAS_IOAmao, has ordered an immediate investigation into the incident. While urging the general public to remain calm & await the outcome of investigation, the CAS, on behalf of all NAF personnel, commiserates with the families of the deceased.

— Air Vice Marshal Ibikunle Daramola (@KunleDaramola3) February 21, 2021
It was a sad day indeed as the aircraft exploded on impact. An investigation as to what exactly caused the crash will follow in due course.